7Ds in my Rainbow of Success !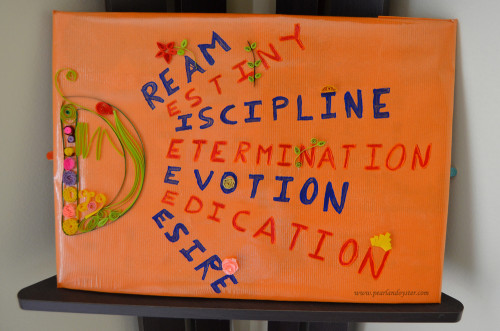 It has been quite some time since I had done some paper quilling. I decided to work on this "7 Ds" thought board which I plan to place in Akshara's room. I am sure it will take at-least 7 more years for her to fully understand the meaning of the words on this board 🙂
The definition of Success varies from person to person and for me, these 7Ds pretty much define it. The words are self explanatory but one may wonder about some of them being synonyms. I would say that the minor difference does help in climbing the ladder without losing a single step.
As a child I have had many dreams, but had never taken them seriously enough until I got the chance to meet Dr.Abdul Kalam. He happens to be an alumnus of our college (From one of the earliest batches of aeronautical engineers at M.I.T Chennai) and I was from "the golden batch" (as we, the 50th graduating batch, were called). I was very fortunate to have had the opportunity to meet him personally. The only thing that he went around asking the students was "What is your dream?" and I still cannot forget that day and will always treasure it as one of the best experiences of my life.
Destiny is something that we achieve after a struggle, but then dreams are beyond that. There is no end to one's dreams. This is the reason the word "Dream" tops my rainbow spectrum, even above destiny. Dream BIG, they convert into thoughts and finally into results. Once that is done, go back to the start and re-live the infinite loop of the 7Ds!