Birthday Party Fun, Food & Ideas !
This has been a long pending post and I felt that this is the right time to bring back some memories from Akshara's earlier birthday parties. Making the arrangements for Akshara's birthday party is one of the tasks that I enjoy doing every year. It does take a lot of time and effort from our side but the outcome makes all of that worthwhile. "Why not call a party planner?" may be the question that pops in your mind but believe me, the amount of satisfaction that you get in doing the things on your own and the kids liking them brings a lot of happiness.
Here, I have summed up some ideas that we had come up with over the years based on the party theme for that particular year. Hope you enjoy reading this lengthy post 🙂
5th Birthday Party (Theme: Princesses and Pirates)

Princess and Pirate, a beautiful and deadly combination by itself 🙂
—Pirate hats, swords and masks for the boys
The hats were made using black chart paper, feathers, glossy tapes.
The swords were rolled out of newspapers with a coating of silver paint which gave a real metal effect. Egg cartons used for the cross-guard.
—Princess crowns,magical wands for the girls
Pink handmade paper was used to make the crowns with satin ribbons and some embellishments.
The wand was a simple one made with a chopstick and a pink star.
—Princess and Pirate round badges were made to order after some customization with names of the kids.
—Pink(strawberry) and blue(citrus blue) drink for the kids.
—Sweet wands.
—Princess theme cake, Disney princesses and the Pirate faces.
The Disney princesses were made using small cake moulds (for the gown part) and the figurines (from Disney magical moment doll set) inserted into them to get the real look. Of course some frosting and icing in the appropriate colour was done to give the final glow.
Pirate faces were made using the desired icing on banana muffins.
—A mini treasure hunt for the boys.
A map was crafted by pouring some tea extract and burning the edges to give a real old, torn look.
The treasure hunt took them to a nearby book shop and from there they had to go to a friend's place to collect a small pouch of chocolate gold coins 🙂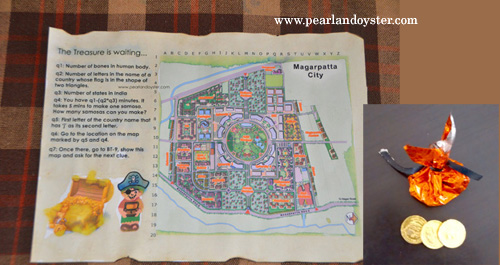 —Return gifts for the Pirates.
Wheat flour storage bag converted into a pirate rucksack with lot of goodies like magnetic compass,book about pirates,kaleidoscope etc
—Return gifts for the Princesses.
Pink paper bags with items like princess key chains,photo frames,jewel sets etc
—Dairy milk chocolate bar with customized wrapper
4th Birthday Party (Theme:The Teddy)
This was the year when Akshara started choosing a theme for her birthday party. She had developed a craze for teddies and that is how we ended up having a teddy themed party. We had ordered a Hawaiian bear design for the cake.
—Fun food items.
Yummy Honey bees with the concept of "Winnie and honey" 🙂
The recipe was quite simple : mix some marie biscuit powder, milk powder and milkmaid to get the body and use slit almonds for the wings. Finally top it with some designs using Hersheys chocolate syrup.
Honey loop cones – ice cream cones filled with honey loops
Teddy pancakes
—Return gifts
We had planned for some assorted customized gifts like popsicle photo puzzles , photo puzzles piled in a jar, photo frames etc. Unfortunately I missed talking a pic of them.
3rd Birthday party (Theme: Nursery Rhymes)
Akshara used to like rhymes a lot and so I came up with the idea of having a party based on it.
—Humpty Dumpty cake..If you have a closer look at the cake you will notice that Humpty Dumpty (with a broken leg) already had fallen by the time we brought him home from the cake shop 🙂 (Thanks to Rajaram for this!)
—Teddy bear biscuits...featuring the rhyme "Teddy Bear Teddy Bear turn around"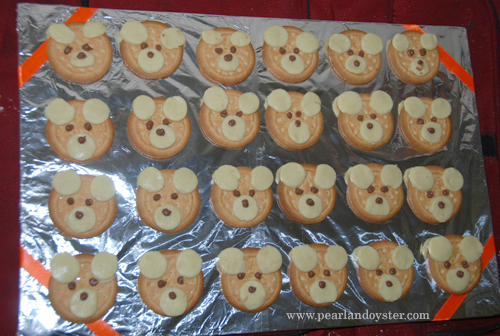 —Return Gifts.
We had ordered customized story books for the smaller kids. One of the character in the story would be Akshara and the rest of the characters would be her friends themselves.
For the older kids we had ordered customized school bag tags with their photos on it.
2nd Birthday Party (Theme:Farm animals)
Akshara used to be obsessed with animals and at that age of two she used to call out and make their sounds whenever she spotted them.So we decided to have a farm animals inspired theme party.
—Farm house with farm animals cake.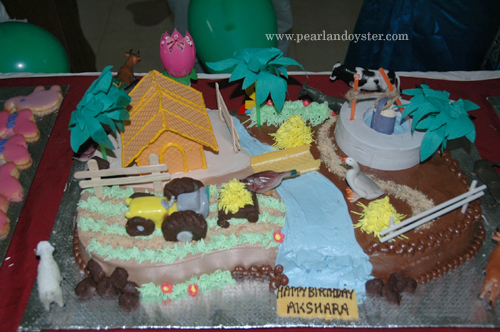 —Made to order farm animal cookies.
—Home made return gift bags.
It was fun making bags out of charts and satin ribbons and having Akshara's hand stamped on them.The contents in the bag were quite assorted mostly some stuff we had bought from Malaysia & Indonesia (best places to buy fancy things)