Lippan work (mud and mirror) from Kutch !
My recent trips to Himachal, Punjab and the Kutch region in Gujarat have made me appreciate our country's diverse culture more than ever before and I stand amazed seeing the quantum of richness that we are gifted with. Well, one might think what is there in the barren Rann of Kutch, but then the beautiful artisan villages surrounding the Rann remove all the barrenness in the heart, especially for the art lover in me. Its fascinating to know that each tribe from that region has its own signature textile embroidery and the name of the karigari is derived from the name of the tribe e.g. Rabari, Aari or paako. So,the next time I step into a Gurjari Emporium I know what to ask for 🙂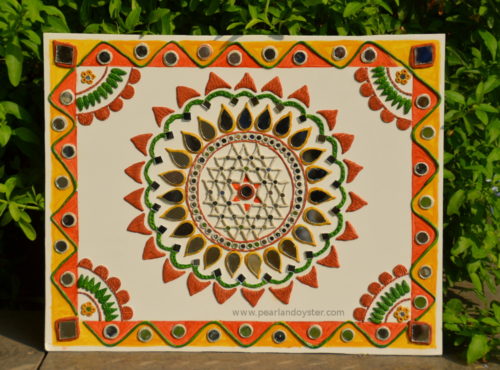 Its interesting to see that some of the art styles have evolved because of a need. One such art is the Lippan Kaam, a traditional mural craft of the Kutch region. It is a simple mud and mirror work done on the inner and outer walls of a house. This is believed to keep the house cool during summer and a single lamp would be enough to light up the whole house. I was so impressed with this work that i designed a small patch for our house. As usual I added a flavour of the South and went with "Aishwaryam" kolam pattern in the center, which is a symbol to welcome Goddess Lakshmi. In this way I also make sure that even if the states in our country are not united, my artwork will have them bonded 🙂 This time, I was pleased to see the Gujarat float in the Republic day parade completely embellished with the Lippan work. As the saying goes "Kutch nahi dekha toh kucch Nahi dekha" …is so true!