Transfomers: The tale of two boards
What do you do when you have an old carrom board lying in your house? Options – 1. Store it behind a cupboard or a bed 2. Continue playing carrom on it and use the worn out board as an excuse for your poor carrom skills 3. Stealthily take the board out of the house and leave it by the roadside dump or 4. Make something useful out of it.
I decided to go with option 4 and this is what happened. Once we had seen a wall mounted magnetic scrabble board at Toys'r'us. It looked so cool that we wanted to buy it. But, it was something created just for a display and not for sale. We came back dejected, but inspired!
So, when the time came to "throw" the old carrom board, we decided to convert it into the magnetic scrabble board we always wanted.
The steps that we did…
We first tried to paint the board directly with a magnetic primer. But then we found out that such primers were not easily available in India and even the ones we found were very expensive. Also, our carpenter told us that they don't really work so well.
We got a very thin steel sheet and nailed it on to the board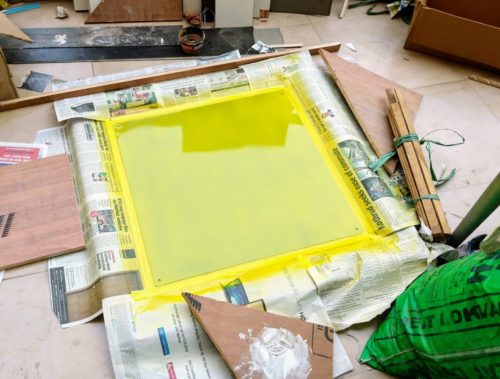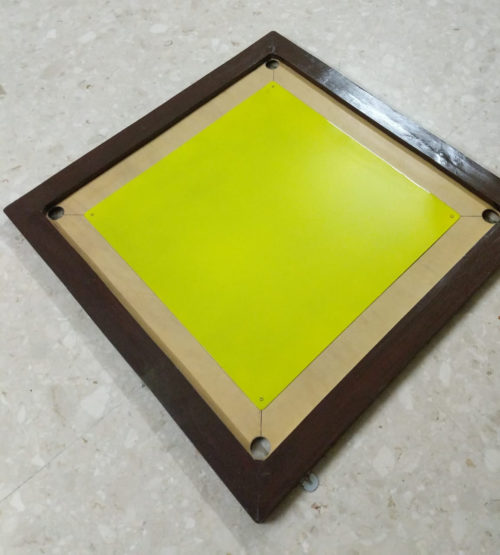 The painter helped us give the green spray paint coat on it to resemble a traditional scrabble board.
With the size of the sheet as the base, we had calculated the size of each square. A scrabble board is 15*15, each being a square.
The grid was drawn with a permanent marker and required some double decimal calculation 🙂
Next came the coins. We had some carpentry work going on in our house at that time. So, we gave the dimensions of the square pieces we wanted to the carpenter and he cut out 100 such pieces out of plywood. The ply was cut and white mica was stuck on both sides. The letter and the score on each coin was written again with permanent markers. On the back side, we stuck pieces of magnetic sheet.
Now to come were the various markings on the board grid e.g. double letter score, triple word score etc. This turned out to be a bit complicated to create. It required work on photoshop to correlate the size of the print required to the size of the image to be created. Then the image was printed on sticker sheets at a local printer. We had done a similar customised sticker print for Akshara's 5th birthday (a cover for a cadbury's diary milk).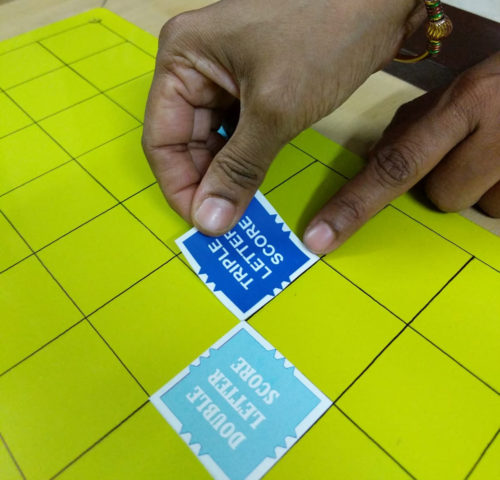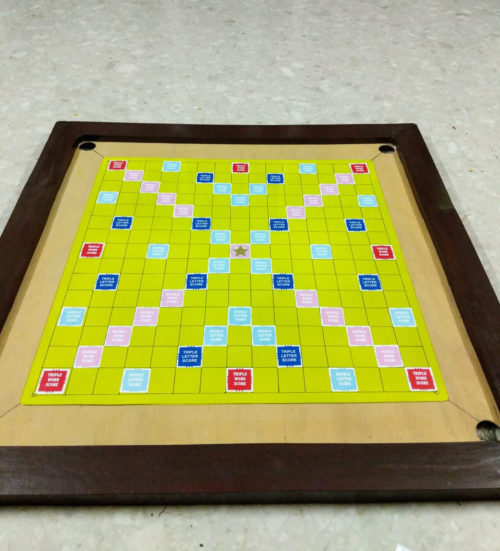 Then came the last part – mounting the carrom board scrabble board on the wall.
So, the next time you visit our home, let's have a stand-up scrabble game 🙂